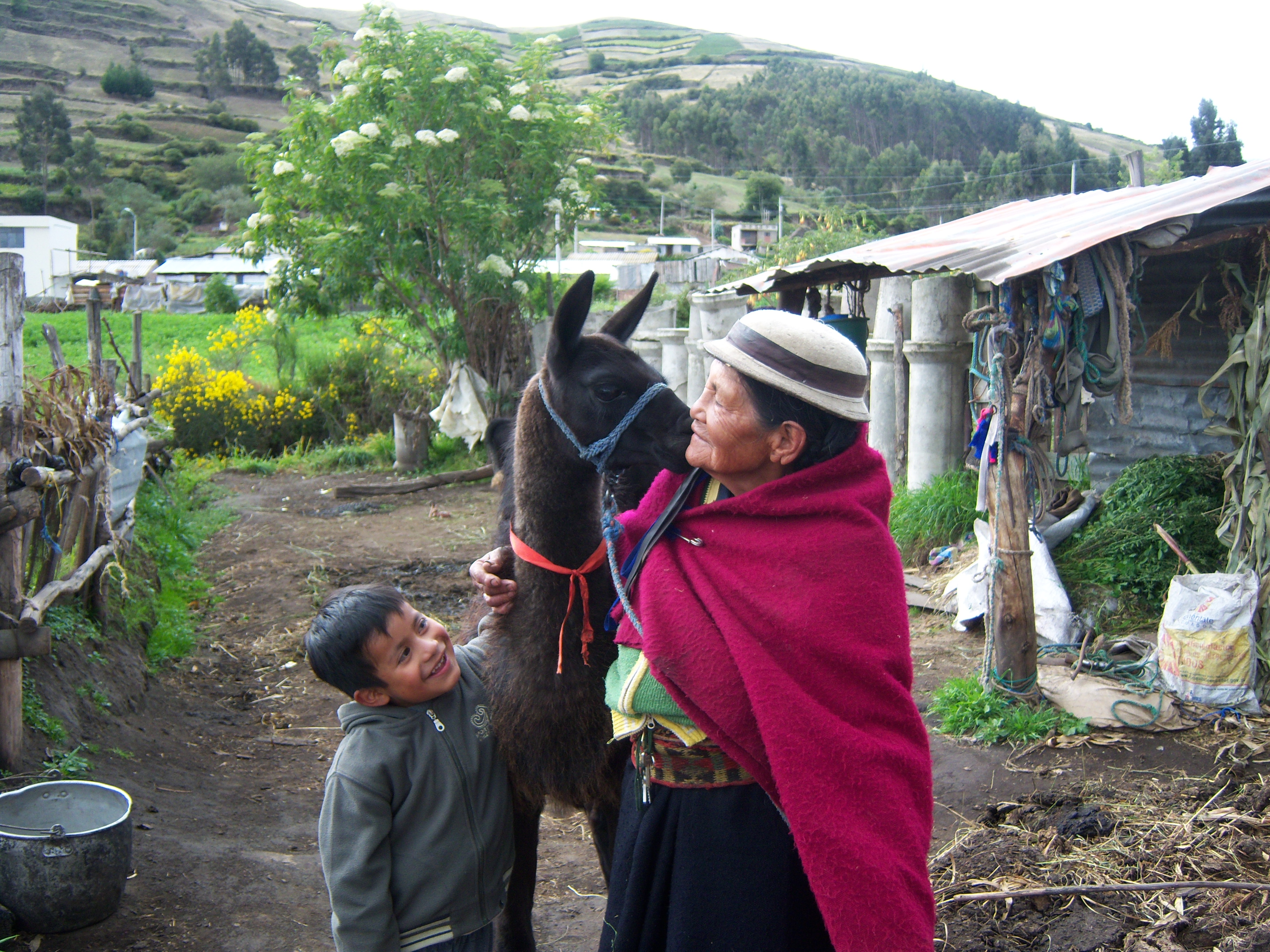 Picture by Carmen Martínez of Doña Maria Isabel Sisa and Alain Tuaza in their home in Chimborazo, Ecuador
The minor in Latin American, Caribbean, and Latino Studies provides instruction and broad exposure to the society and culture of Latin America.
The minor requires a minimum of 18 credit hours to be distributed as follows:
Preminor Requirement:
 LAS 201 Introduction to Latin America (3 hours)
Minor Requirements:
Complete 3 credit hours of language instruction in Spanish, Portuguese, or French at the 300 level or above or in an indigenous language spoken in Latin America; and
Complete 12 credit hours of approved courses across at least three of the following disciplines: Anthropology, Hispanic studies, History, Latin American Studies, Linguistics, Geography, Political Science, Sociology, and Writing, Rhetoric and Digital Studies. All courses need to have at least 75 percent Latin American, Caribbean or Latino content. Below is a list of classes that count, and Click here for courses specifically being offered in the Fall of 2022 that also count (some of these are also listed below). Some classes offered each semester are not on the list of electives below because the topic or the way they are taught changes from year to year, sometimes incorporating little or no Latin America content.
Other courses, including independent studies and education abroad courses, may be counted with the approval from the LACLAS Director. List of approved courses usually taught by affiliate faculty:
ANT 320 Andean Civilization (3 hours)
ANT 322 Ancient Mexican Civilizations (3 hours)
ANT 324 Contemporary Latin American Cultures (3 hours)
ANT 328 The Ancient Maya (3 hours)
GEO 323 Mexico: Environment, Politics and Society (3 hours)
GEO 324 Geography of Central and South America and the  Caribbean (3 hours)
HIS 206 History of Colonial Latin America, 1492 to 1810 (3 hours)
HIS 207 History of Modern Latin America, 1810 to Present (3 hours)
HIS 208 History of the Atlantic World (3 hours)
HIS 562 Modern Mexico (3 hours)
HIS 563 The History of Women in Latin America (3 hours)
HIS 564 History of Brazil (3 hours)
LAS 395 Independent Work in Latin American Studies (3 hours)
PS 428G Latin American Government and Politics (3 hours)
PS 538 Conflict and Cooperation in Latin American Relations (3 hours)
*SOC 350 Topics in Sociology (Subtitle required) (3 hours)
SOC 432 Race and Ethnic Relations (3 hours)
SPA 208 US Latino Culture and Politics (3 hours)
SPA 314 Civilization of Spanish America (3 hours)
SPA 315: Introducton to Hispanic Literature
SPA 322 Literature, Life and Thought of Spanish America (3 hours)
SPA 332 Spanish and Latin American Business Environments (3 hours)
SPA 438G Literature of Social Protest in Spanish America (3 hours)
*SPA 474 Topics in Hispanic Studies (Subtitle required) (3 hours)
*Course subtitle must focus on Latin American, Caribbean and/ or Latino studies.