By Richard LeComte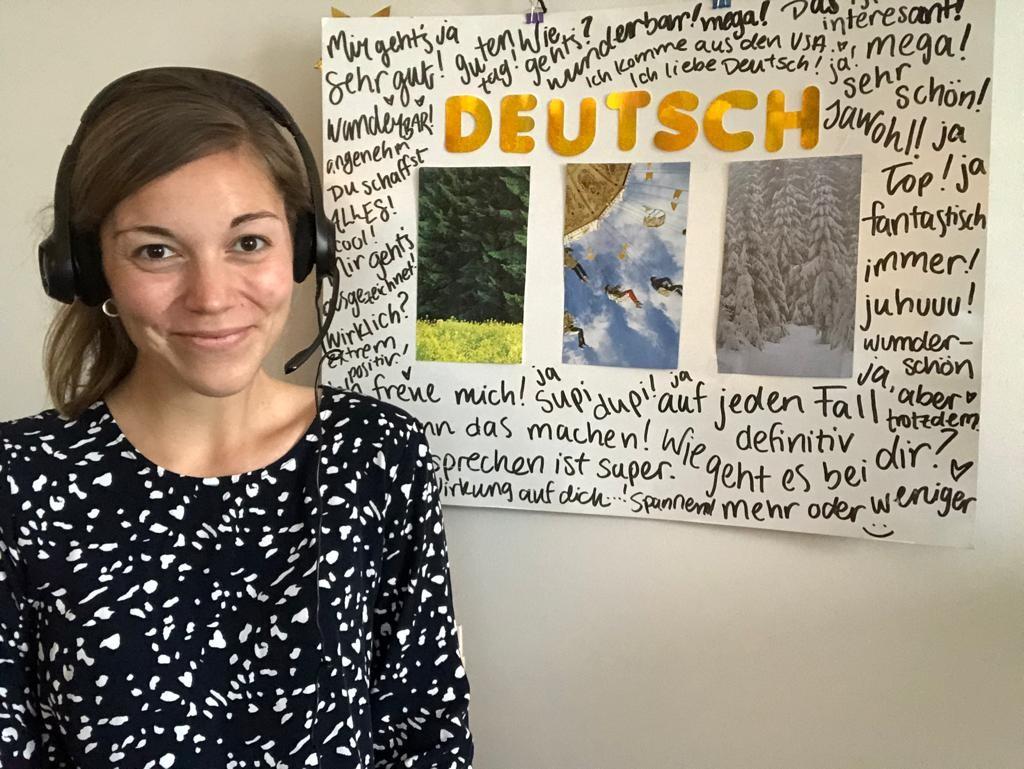 Even if students can't travel to foreign lands this summer, they can extend their knowledge of languages through a series of courses offered online in the University of Kentucky's College of Arts & Sciences. 
"I think one really big advantage of online learning the lockdown – when students can't leave their homes – is the ability to travel virtually," said  Julie Human, assistant professor of French and Francophone Studies in UK's Department of Modern & Classical Languages, Literatures & Cultures Department (MCLLC). "You can explore the customs and ways of the Francophone world whenever you're stuck at home inside your four walls."
Classes in Spanish, French, German and other languages are offered online through UK this summer. 
"We have all the elementary levels of Spanish – levels 101, 102 and 201 – all online for the first time," said Ruth Brown, senior lecturer and academic coordinator for elementary language courses in the Hispanic Studies Department.
Students who take Introductory and Intermediate Spanish classes will be using an online textbook and meeting a few times a week with instructors via Zoom to practice using the language. The department also provides a wide range of electronic resources to augment learning; Brown said she runs most of her online classes through the Canvas learning platform.
"The materials let them watch videos of native speakers," she said. "We also have them record two-minute videos on whatever topic is assigned, and then students can comment on their peers' videos with their own videos. It's a good way to simulate discussion while keeping it asynchronous."
Some of the summer classes, including Spanish American Civilization and Spanish for Health Care, are asynchronous. In certain circumstances, asynchronous classes – taking lessons without a formal meeting – is key to summer study. Students are able to wrap the classes around their schedules, and recording videos helps first-time speakers of a language get over stage fright.
"I think it benefits students who are introverted or nervous about performing," Brown said. "You can practice speaking and hone your listening and reading skills and not have to speak in a classroom.
Brenna Byrd, who coordinates basic German classes in MCLLC, created her own workbook to operate in Canvas.
"I give them very short quizzes that don't take long to do," she said. "Some of them are vocabulary, some of them are grammar. They learn aural comprehension using videos to listen to, and they do self-grading multiple choice tests."
She handles getting students to practice speaking through a reflective journal portfolio. She assigns the students a topic; the students record their responses, and she then listens to the result to check their progress.
In addition to the standard beginning language, the College offers a Spanish class aimed at health professionals; the idea, Brown said, is to give students a basic vocabulary they can use when interacting with Spanish-speaking patients and interpreters.
"It's kind of a generalized vocabulary," Brown said. "We go through body parts and illnesses –things that can help workers manage interactions with patients at intake." 
One of the biggest factors in teaching languages online – and for all classes – is ensuring students and faculty members are able to interact in meaningful ways.
"Some people are doing synchronous sessions without attendance being required," Human said. "Instructors are spending office hours on Zoom, and they're providing telephone numbers in case students don't have access to Zoom."
And the faculty members are always there to critique, guide and encourage beginning language students.
"The faculty input includes giving students vocabulary and ways to practice, recording lectures or five-minute videos, and offering comprehension checks and quizzes," Byrd said. "They all work well to keep students motivated and learning."